What is your philosophy?  Are you a giver?  Are you overly cautious?  Are you a throw it all out there risk taker?
I keep my Philosophy in a bottle.   I'm a big fan of Philosophy.   It's like pouring food all over you only no one gets to lick the bowl. You drown in yumminess.
Let them eat cake…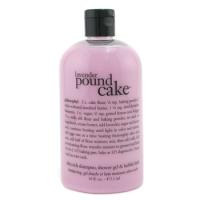 Or maybe the Frosting on the Cake…no not my horse, that's just his show name…
My Milkshake…nevermind, I'm not going there. yucky song…
Treat yourself to something scrumptious today…If you didn't get what you want for Valentine's Day, here's a chance to spoil the one you love…YOU!
We'll end with a little Ben Folds song…He's my favorite…It's my treat to me…
[youtube]http://www.youtube.com/watch?v=sKcuHaZlFiY[/youtube]